Proudly providing the highest quality of eCigarette hardware and mods, eJuice and eCig accessories, Pink Spot Vapors is your go-to choice, whether in the Las Vegas area or anywhere else from coast to coast and around the world. Since opening, Pink Spot Vapors has been awarded "Best of Las Vegas" 5 years in a row, as well as acquiring an A+ rating with the Better Business Bureau!
From our food-grade laboratory to our local delivery services to customers in the Las Vegas region, providing top-notch service for our customers is always at the forefront of our minds. We offer a wide variety of ejuice to meet nearly every customer's preference – including our signature cocktail and drink flavors. Our goal is to be the go-to vape store for ecig users, providing unmatched flavor, unbeatable quality and unrivaled customer satisfaction.
Since 2009, our goal has been to help bring a better experience to vapers, from our thoroughly tested e-Liquid to our durable and reliable hardware that helps our customers get the optimal taste and vapor production. We work tirelessly to provide the best customer service possible.
---
Check Out Our Flagship store for the Best Gourmet E-Liquid, E-Cigs & Starter Kits available for Sale!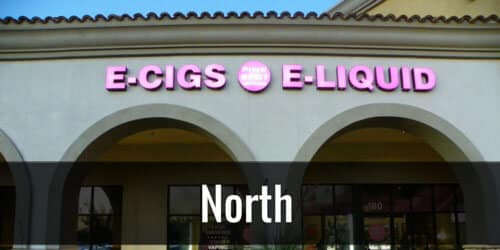 6485 N. Decatur Blvd. Suite 180
Las Vegas, NV 89131
Phone:
702-655-8273
Monday-Friday 10AM-8PM
Saturday 10AM-6PM
Sunday – Closed