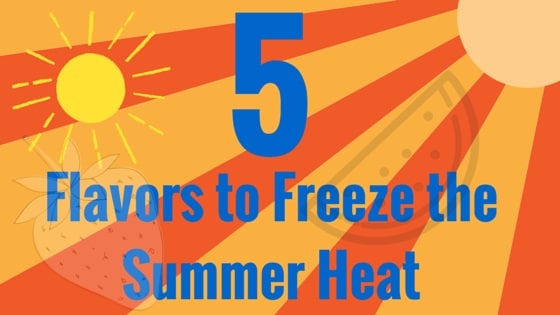 Summer, Summer, Summertime (you know you love this oldie but goody!).  With the coming heat, you'll be looking for ways to stay cool and refreshed and take the edge off the sweltering temps and suffocating humidity. Here are five great flavors for summer that offer both the great taste and cooling sensation that you want for the season.
Rip Tide is like being hit by a refreshing wave at the water park wave pool or relaxing in the waves of tidal shallows at a white sandy beach. With hints of strawberry and other savory flavors, chased by the hint of cool and refreshing menthol, you're sure to get pulled in by Rip Tide.
There have been a number of great lime combinations over the years – Coke and lime, G&T with lime, and now menthol and lime. Matching the tangy, sweet bite of lime with the crisp bite of menthol, Frozen Lime Drop is sure to be a fresh taste for your ecig, perfect to pair with a classic cocktail on a sultry summer night.
The great flavor of melon is a delicious treat any time of year, but blended with berry in our Cantaberry Crush, it's a taste that can't be beat. The cantaloupe and strawberry duet provide a delightfully sweet and savory combination, with the menthol hint providing a cold sensation of flavor, as though you'd just taken these fruits straight out of your refrigerator.
Not into fruity flavors? No problem. Sub Zero pairs the tobacco taste you love with a touch of smooth, cooling menthol to add an icy taste for your vaping pleasure. Sit down and watch the sun set on a summer night with a bit of Sub Zero to take you into the late evening hours.
What would an Atomic Fire Ball taste like with a menthol finish? Fire and Ice, that's what. Just like a steaming summer day, Fire and Ice starts out with a hot blast of candied cinnamon and cools off toward the end with soothing, icy menthol. Blending both the burning heat of the day with the refreshing cool of the evening hours, Fire and Ice is the e-liquid embodiment of summertime.
Bonus Time!
(You can add cool menthol to any of our flavors by clicking the "On the Rocks" button while ordering.)
We mentioned melon flavor earlier, but this is the biggest and the best – literally. Watermelon is the largest member of the melon family, and has been a summertime treat at picnics and barbecues for decades. Take a drag of this in your ecig and ride the wave back to those summertime memories or enjoy it while making more memorable times of your own.
With so many e-liquids to choose from, you're sure to find a new favorite flavor for the summer. Take a look at our full line of "On the Rocks" flavors or check out our top sellers to see what our customers think are the coolest e-liquids for the hot, hot heat.