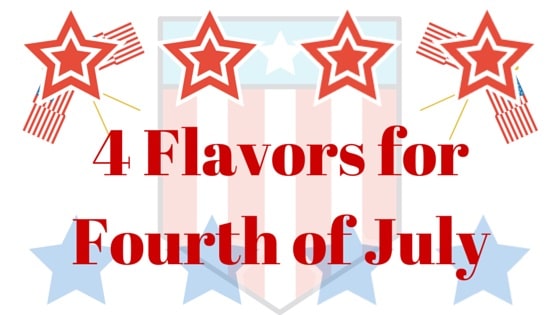 Next weekend is the Fourth of July, America's 239th annual celebration honoring the anniversary of Colonies' official adoption of the Declaration of Independence that fateful day in Philadelphia. As the entire nation and people from coast to coast gear up for a fun-filled day of barbecues and fireworks, let's take a look at four of our favorite flavors to vape in celebration of Independence Day.
Everyone knows that nothing says America like baseball and apple pie. While we don't have a baseball flavor – and you're welcome for that, by the way – we do have our delicious and delectable Dutch Apple Pie. Mixing the savory tastes of a flaky pie crust, flecked with cinnamon and spice, with the unmistakable taste of apple, this sweet and flavorful e-juice will dance on your palate all day long. Whether enjoyed after your barbecue as a delicious after-dinner treat or as your everyday vape, you're sure to fall in love with this taste of Americana.
Perhaps you're less a fan of the sweet, and like something more like the cigarette taste you left behind. Our USA Blend has you covered! This e-juice has been compared to many of our customers' former favorite analog brands, and balances the great tobacco flavors you crave with the cleaner tastes you can get with vaping. This flavor of e-juice is perfect for enjoying in the shadows of a brilliant fireworks spectacle of red, white and blue this Independence Day – and every day!
Mixing all the flavor of our USA Blend with hints of cool and refreshing menthol, our USA Menthol Blend is a great option for summertime vaping. Providing a smooth and chilly taste, it's sure to take the sting off the heat of the summer sun or a long day manning the grill. Not as minty as our Sub Zero flavor and not as in-your-face menthol as our standalone Menthol, USA Menthol Blend is just right for those looking to keep the taste of tobacco with a refreshing bite.
Since before even the first colonists landed on the shores of what would become America, Native Americans knew about the great taste of the sassafras root. A taste of America since the 1800s, this delightful taste is now available in savory e-juice form. The distinct flavor is sure to remind you of ballgames and hot afternoons playing as a kid, and is absolutely delicious. As an insider tip: Try adding a drop or two of our French Vanilla e-juice to make your own root beer float! Plus, we now have a drippable version of Root Beer, specially formulated to taste great for all you Mech Mod users.
No matter which way you decide to celebrate this July Fourth, Pink Spot Vapors has everything a vaper needs to truly enjoy life, liberty and their pursuit of vaping happiness!