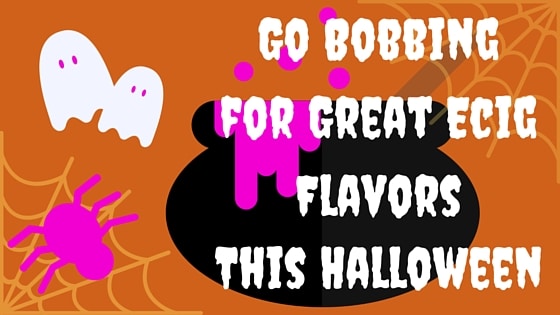 Everyone remembers the fun and rush – usually from all the sugar – that comes with trick or treating on Halloween. Going from house to house, bringing along your Halloween bucket, bag or even just a pillow case and stocking up on what seemed like enough treats to last you clear through the end of the year. While you're no doubt a little too old to make that work still today, that doesn't mean you can't enjoy sweet treats this season. Our selection of great ejuice is sure to make your mouth water – and without the extra sugar and calories! Check out 10 of our top Halloween flavors.
Blend sweet with sour with the Sweet Talker ejuice. Let the taste dance on your palate on the way in while the sour pucker hits you on the way out. Get the classic taste without getting the chalky chewables stuck in your teeth!
A Halloween classic, this flavor pops with the tang of fresh, crisp apple combined with the sweet taste of gooey caramel – all without the sticky mess. If you ask nicely, we might even wrap it in plastic and glue it to a stick so you can relive your childhood.
Bubble Gum
Yum, yum, bubble gum! This classic taste is so good, we couldn't even just land on one. Try our classic Bubble Gum Flavor for the traditional taste you crave, Grape Bubble Gum with that extra pop of grape flavor or add a berry blast with Strawberry Bubble Gum. You're sure to get stuck on these great tastes!
Speaking of great berry tastes, check out Strawburst. A great blend of strawberry and cream, this smooth and sweet taste will remind you of summer even as the temperatures outside keep dropping. Put a few drops of this into your tank and savor the flavor.
One of the oldest hard candies that have been enjoyed for years now makes its way to the vaping world. Our Lemon Drop is tart and tangy, based on your favorite sweet treat and cocktail. Soak in the sour and grab a bottle of this lemony treat.
Cold and hot – just like your Halloween costume on those frosty trick-or-treating nights. Fire and Ice blends the burn of candied cinnamon with the fresh coolness of menthol. Just like those red-hots you got in your Hallween bag, the spicy taste burns hot but chills back down with the bite of menthol. Try some out for yourself and see how great these polar opposites blend together.
Chocolate! Of course there's chocolate. Enjoy this taste guilt-free and get the sweetness you crave without the calories or regrets. Cheat on your cheat day or soothe your stresses with this fantastic flavor.
Smooth chocolate and creamy coconut dance together in this delectable flavor. Don't dip into your child's haul to get this great taste – order a bottle and enjoy it in your vape instead. On second thought, go ahead and steal one if you can – we won't tell!
What's better than chocolate? Chocolate with peanut butter! Smooth chocolate and creamy peanut butter blends and dances on your palate together, melting into a fantastic flavor with the power of your mod. Tell your friend Reese to buzz off and enjoy this great taste all on your own.
Rounding out the list is the classic peppermint and chocolate taste of Mint Patty. A few drags of this will make you think you are at the top of the Alps. Creamy chocolate and mint blend into a fantastic flavor profile that not only tastes great, but helps set the mood for the cooler months just beyond Halloween.
Whatever treat is your favorite, you're sure to find a great version of it here at Pink Spot Vapors. While it's not the same as trading with your friends and siblings, buying one or more of our gourmet ejuice flavors is even better – you get exactly what you want without having to sort through the malted milk balls, candy corn and chocolate raisins. What was – or is – your favorite sweet treat? Chime in in the comments below, and Happy Halloween!