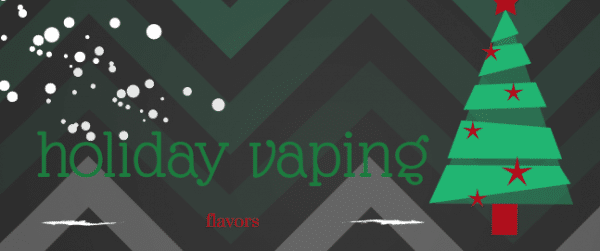 The holiday season is here! At Pink Spot Vapors, the holidays mean we get to enjoy all of our seasonal ejuice once again! We've got a ton of wintery flavors that are perfect for occasional or all day vaping. (They're technically available all year long, but are most enthusiastically enjoyed during Christmas time)
The holidays aren't complete without candy canes. I like to get them in any way I can. Decorate with them. Bake with them. Eat them. And now vape them.
One of Pink Spot's top sellers, this cinnamon ice explosion is a delicious and fiery treat.
I'm not sure if it's my instinct to hibernate or all of the seasonal eating, but the holidays make me crave chocolate constantly. This ejuice makes for a sophisticated and completely satisfying vape. Pairs perfectly with coffee or hot chocolate.
In case you didn't get enough pumpkin during the fall, Pumpkin Spice Chai is here to warm you up and entice your taste buds. It's a bold holiday flavor that is perfect on those cozy winter nights.
One of our most highly rated ejuice! Snowman's Kiss is like a sweet minty fresh make out sesh with a snowman (or woman).
If you're looking for the fruitier side of the holidays, Sinna Pear is your guy. This ejuice is just what it sounds like. You've got the sweet pear flavor with the spice of cinnamon. It's like a yummy holiday pie in vapor form.
Let's be real. What is better than a happy ending on Christmas Eve? This ejuice is a complex symphony of sweet and cool flavors. Your taste buds will jump for joy!