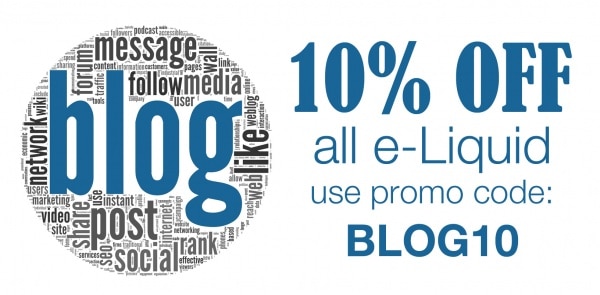 My why?
I am so lucky that I work here at Pink Spot Vapors as I have already been able to try some different mods, and juice, and nicotine levels… I had no idea how many options you have as a vaper… but I will touch on that in my next post!
I don't know if most people have an epiphany moment that makes them want to become a nonsmoker or if they just get tired of listening to everyone tell them to stop. I am not sure if I am setting myself up for failure as I am choosing to try and quit in some of the most stressful times in my life… which brings me to my why. Why did I choose now to quit smoking? Why would I give up something that I obviously love to do? Why now?
I am quitting smoking because I want to be around and watch my grandchildren grow up. I want to see them graduate, get married, have children, and build a life on some of the core values I show them. I do NOT want smoking to be one of those values!
I have been blessed with twin granddaughters. For anonymity, I will call them Thing One and Thing Two – don't judge me – they love Dr. Seuss and I use these names as a term of endearment… as unendearingly as the names sound! LOL
Everyone has a back story and I will try not to bore you with all the details of mine, but I must give you some details so you understand why my why is so important to me. I know, all grandchildren are important to their grandparents, but mine are "extra" important.
When I was 16 I had a few medical issues, and I was told I would never be able to have children ☹ (I told you I wouldn't bore you with all the details, so we will get right to the meat and potatoes) I met my husband, and he had a son already who was eight and he had full custody. I can't lie, I think the fact that he had a son made him even more attractive to me. I always wanted kids… lots of kids! 9 boys, and 1 girl to be exact!! We got married, and I had a family! Jump forward 20 years, and our son has found himself in some trouble. The four of them now live with us in a nice big house. Life was perfect.
My first day here at Pink Spot Vapors was a dream come true. Work was five minutes away from home, my happy family was all working as one big unit, my husband and I love having the grand kids to come home to every night, and life was great. Then I went home to a message from our landlord to come over and talk. She is selling our beautiful 5-bedroom home, and we must move out.
We have found a beautiful home – half the size!! Our beautiful little bubble is shrinking by half. Half of our belongings are being sold. Half of the life we have built, we have no room for. To boot, my little family unit is getting anxious and worried. Thing one is excited for all the new things we will get to do when we move. Thing two is pissed that we are moving and says she is going to stay in our current house. The grown kids are upset because of the inconvenience this move will bring to them! (REALLY?? Inconvenient for you? pfffft!)  I am stressed to the max and find myself smoking… a lot!
As fellow smokers, or non-smokers, you know the routine… life brings stress, you smoke more. You use that crutch to help get you through. I have been smoking a LOT! I almost wish I wouldn't have decided to quit – But alas, I am a woman of my word and I am sticking to my promise.  As mentioned before, I am lucky as I have a wealth of support, knowledge, and encouragement here at Pink Spot. Most of whom were fellow smokers. Friends of mine who used to go outside with me to smoke. Friends of mine who have smoked for as long as I have known them. Friends of mine who are happy to help me. Friends who care! With all the chaos in my life, Pink Spot Vapors has become my happy place!
So, my why? My granddaughters, my family, my friends, myself!
What was your why?