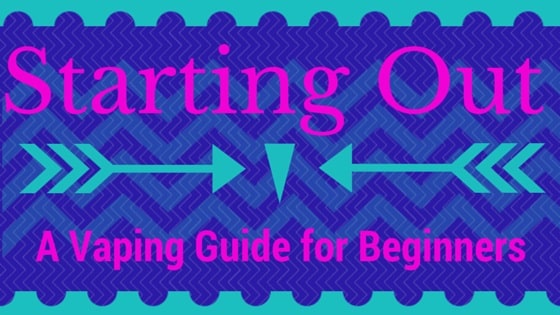 As we get into the full swing of summer, it's a great time to make the switch from smoking analog cigarettes to vaping. If you've thought about joining the ranks of ecigarette users or are just curious about vaping in general, this post has you in mind. Let's take a look at the basics and best tips to help you successfully start vaping!
Get Your Hardware
The first step in making the switch to vaping is selecting an ecigarette that works for you. For most beginners, this is a matter of personal preference in style, size, color and – of course – price. There are two main options for beginners: disposable ecigs and ecig kits.
Disposable ecigs are designed to be used for a short period, and are entirely self-contained with a battery and a preselected flavor of your choice. Offered at a very low price point – less than a pack of analog cigarettes in most states – disposables give you an introduction to using ecigs. Plus, you can easily try out a few different ejuice flavor options and see what taste you like before investing in a bottle of ejuice and kit purchase.
If you've tried other ecigarettes before and/or are ready to make the full plunge, getting an ecigarette kit will provide you with all the hardware you need to get started. A basic starter kit will generally include one to two batteries, a clearomizer or tank (more on the differences here) and a charger for your battery(ies). If you expect that you're going to be using yours heavily, especially on the road or at the office, the staff here at Pink Spot Vapors can help you decide which ecig kit best fit your needs. Tank and ecig size, as well as battery life, are all important factors when picking out your ecig.
Pick Your Flavors
The next part of vaping is actually having something to vape! That would be where eliquid or ejuice comes in. We offer an incredible selection of food, drink and tobacco eliquid flavors that are sure to appeal to nearly anyone's palate. Whether you prefer a sweet sensation, a tart and tangy taste, or a rich, smoky tobacco, our flavor line is sure to have a great option for you.
However, there's more to eliquid than just the taste; there's also the nicotine. Finding the right nicotine level for you depends on a number of factors, including how many analog cigarettes you typically smoke in a day. Our highly educated staff can help you to find the right nicotine level to meet your specific needs. While the transition may take some fine-tuning, once you find an ejuice flavor you love and a desirable nicotine level, you will be amazed at how much easier the transition to vaping is.
Charging Your Battery and Filling Your Tanks
Once you've got your hardware and eliquid, you're ready to start vaping! The type of kit you've selected will dictate how the filling and refilling process works, so be sure to read the included instructions and, of course, the Pink Spot Vapors staff is always available to help! The filling process is very straightforward, and you'll get the hang of it in no time.
The important thing to keep in mind while vaping is that running out of eliquid or having your battery die is like smoking the last cigarette in your pack – until you recharge or refill, you're left without a way to vape! If you have two or more batteries in your kit, making sure you recharge the one that isn't being used is the best way to ensure that you've always got a continuous power supply. As for ejuice, tanks provide a great means to keeping ejuice throughout the day, but even they eventually go empty (you'll realize this if you get a burnt taste – yuck!). Keeping a bottle of eliquid with you on the go is a smart choice to ensure that you're always ready to refill.
Some Suggestions
Transitioning to an ecigarette when you're used to lighting up can be tricky. While many vapers look to make a clean cut from smoking to vaping, others have to work on the transition to using their ecig full time. One tip that works for some people is designating certain times or areas to exclusively vaping. For some, this may mean using only your ecig while in the car or at work, while others may choose to designate their lunch break or any time they would smoke (i.e., with your morning coffee or after dinner) as ecig-only time.
Another tip is to keep hydrated, especially while starting out. For those who aren't used to vaping, regularly using an ecig can make them feel parched, making drinking enough water all the more important. If you typically drink two or three cups of water throughout the day, up your intake to four or more while you start. Plus, drinking water is great for your health, too – just like quitting smoking!
At Pink Spot Vapors, we have everything you need, whether you're a veteran vapor or an entry-level ecig user. Check out our full inventory online, or contact us today with any questions or help finding the right products for you!