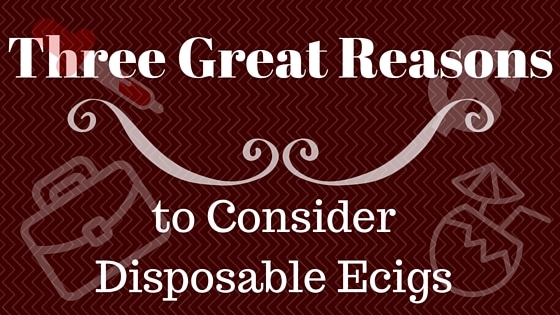 With Labor Day weekend fast approaching, end-of-summer season travel plans are finalizing for many of you out there. Whether you plan a classic cross-country road trip as one last hurrah during these warmer months, a flight to see friends or family far away or just intend to barbecue in the backyard, you don't want to forget your favorite eliquid and vaping equipment. However, if you're concerned about traveling with your full kit or just want to try something different this holiday, there's an easy solution: Disposable ecigs! Let's take a look at three great advantages of disposable ecigs.
Travel
As we mentioned, one of the great advantages of a disposable is that you can bring it with you instead of your normal ecig kit. While most airport security stations are more than familiar with ecigs by now, some vapers are still concerned about traveling with their kit – especially if they run into problems with their ejuice or hardware and are forced to leave any of it behind. When taking that long road trip, we know you need to get out and stretch and who doesn't love eating at a cute diner. Eliminate the risk of losing your expensive hardware or eliquid and go with a disposable! You still get the same great taste you're used to from Pink Spot Vapors. Costing just a fraction of most hardware setups, these handy disposables are a great solution for the traveling vaper.
Thinking About Making The Switch, Give It A Try!
Perhaps you're new to vaping or are considering trying out one of our delicious ejuice flavors that you haven't tried yet. Our disposable ecigs are a fantastic way to get a taste – literally – of what these flavors are like. If you're just starting out, a disposable combines both the ecigarette experience and the great flavors at Pink Spot Vapors in one handy option. Think of it as a try before you buy – experience the taste and feel of an ecig, and then check out our full kits and collection of great eliquid.
As a skilled vaper, you already love the experience of vaping, but perhaps you want to sample one of our flavors that you haven't tried before. With five great flavors available in our disposable models, you can try out any of these great eliquids with a disposable before purchasing a full bottle for yourself.
Frequent Changes
Another great use for disposable ecigs is for vapers who frequently change flavors or find themselves burning through their batteries during a day. With a disposable, you can solve either problem. An especially great option for someone who likes to switch flavors throughout the day, but doesn't have a plethora of tanks, disposables gives user the opportunity to quickly switch flavors by just grabbing a different one. With its compact form and ease of use, disposables can easily fit in a pocket or purse like a spare pen, ready to go whenever you need.
For heavy vapers, investing in a disposable is also a good option to have on hand as a convenient backup in case your batteries run out during the day. Keeping one of these devices in your bag or pocket gives you peace of mind that even if your mod dies during the day, you still can enjoy the great taste of Pink Spot Vapors until you've got a chance to recharge. Plus, with our flavor selection, you can opt for the same eliquid that's in your daily vape or use the disposable to test out a new flavor choice. Don't forget: We also stock extra batteries and chargers, too!
Whatever the situation, disposable ecigs are a great option for new and experienced vapers alike. Be sure to check out our full inventory and place an order today. Don't forget – our Las Vegas Valley customers may be able to receive local delivery; call us at 702-655-VAPE (8273) or take a look at our delivery ZIP codes list online to see if we deliver to your area!