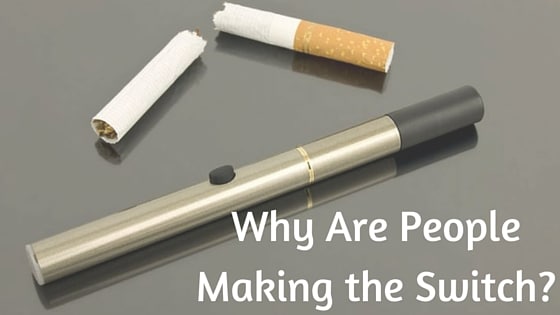 Many former smokers have snuffed out their habit and jumped on vaping. The trend has grown exponentially in recent years, and some forecasts call for ecigarettes and ejuice to outpace traditional tobacco sales by the end of the decade. The reasons to drop the smoking habit and trade up to ecigs are plentiful, but earlier this year Reuters/Ipsos held a poll to get an idea of why so many people have made the switch.
An Introduction
To start, the first – and perhaps most notable – takeaway from the poll was that it found nearly 10 percent of American adults are vaping, based on the poll's statistical sampling of 5,679 people. That number is nearly four times the figure that the federal government reported in 2013, when it estimated that 2.6 percent of the adult population was vaping. Within those polled, the survey revealed that about 15 percent of the participants younger than 40 were vaping, and that nearly 70 percent of all users started within the last year – although, the study noted, three of four vapers also reported using cigarettes.
Reasons for Change
Digging into the poll's results, about half of those respondents who vape said that they were swayed to try ecigs because of friends and family, while roughly 40 percent reported the ability to use ecigarettes in indoor areas and the cost savings versus traditional tobacco products as leading factors in their decisions. When looking at all respondents to the survey, 40 percent said they felt that ecigs were "a good way to help people quit smoking," to use the poll's phrasing, while that number jumped to 80 percent when considering just vapers who answered the survey.
Smoking on the Decline
Echoing some of those findings, a new report from the Centers for Disease Control and Prevention that was released last month shows that smoking rates have declined nationwide, down from 18 percent of the adult population in 2013 to 15 percent this year. In Healthline's coverage of the CDC report, Dr. Brad Rodu, endowed chairperson in the Tobacco Harm Reduction Research program at the University of Louisville, noted that some of the reduction is likely attributable to ecigarette use increasing. With nearly 2 million smokers no longer lighting up, Rodu says in the Healthline report that "[makes] it plausible that ecigarettes played some role in their becoming or staying smoke-free."
Takeaways
With the survey and CDC data, it's clear to see that ecigarettes are growing in popularity for a variety of reasons and more and more people are trying out vaping each day. As Reuters notes, the vaping market is projected to grow to $3.5 billion by the end of this year – a growth of $1 billion from 2014 – showing that the trend has truly taken off and become ubiquitous from coast to coast.
Whether you're just starting out or looking for new flavors or equipment to enhance your experience, Pink Spot Vapors can help. The trained experts in our two convenient store locations can help you find a starter kit or the right accessories and replacement parts for your device, and our range of gourmet flavors offers a great taste for any preference. Stop in and see us today in the Las Vegas area or shop our selection online. We're always happy to help answer any of your questions as well – contact us for more information!