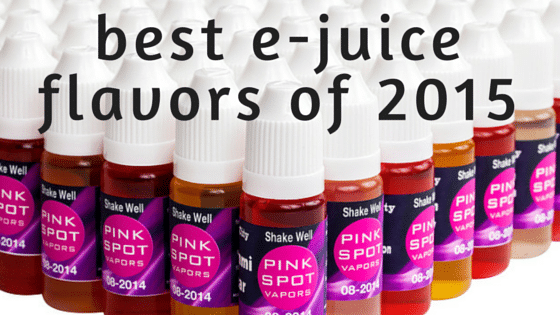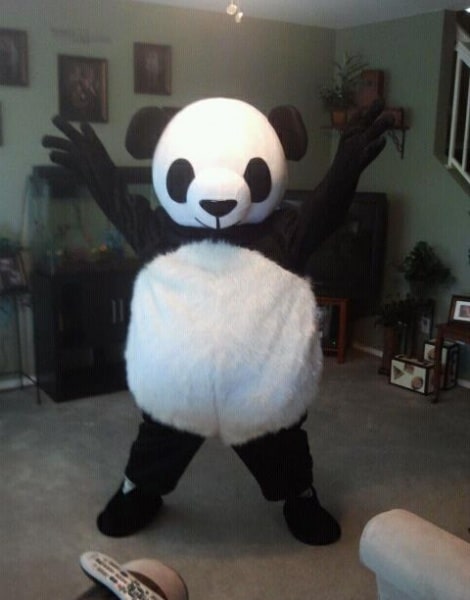 Does anyone make purchases anymore without reading reviews? It's one of the first things I do when I go to try something new. Whether I'm investing in a giant panda suit or I'm trying out a new restaurant, the reviews mean the world to me.
With SO many options for eJuice, how can you tell which eJuice is the best? Which eJuice should you try next? At Pink Spot Vapors, we love hearing back from our customers about their various experiences with our eJuice – we always aim to make our eJuice the best eJuice on the market. It wouldn't be possible without you guys!
We've combed through our top secret records to find out which of our eJuice flavors are the highest rated eJuices, which ones are the best-selling eJuices, and which ones are our classically delicious eJuice flavors. We came up with the ultimate list of Pink Spot Vapors 8 Must-Try eJuice Flavors.
Here are Pink Spot Vapors' 8 best eJuice flavors of ALL time (so far in 2015):

We knew we hit a home run with this delicious blend of flavors and it turns out that everyone agrees! Pink Spot has been our best eJuice flavor for so long, we named our whole business after it (what came first, the chicken or the egg?). With over 122 reviews and five stars, we're pretty confident you'll love this best-selling eJuice flavor. With Pink Spot, you'll be hypnotized by delightful clouds of raspberry, pineapple, and lime. Are you a Pink Spot eJuice lover? Be sure to check out the equally amazing Blu Spot and G Spot.
Review from jwbowles:
"This is my every day vape. After several years, and trying juices from many other vendors, including mixing my own extensively, I can confidently say this is my favorite flavor and I DO NOT vape anything else. Seriously, just pink spot for the last 2 years. I don't get tired of it, and when I do try something else it always ends up in the trash. Taste is subjective, but to me this, hands down, is the best juice on the market. The original pink spot is where it's at. I get 120ml at a time. No extra flavor, no on the rocks, just straight up at 18mg. The other flavors are good as well, frozen lime drop is a close second to me, but nothing beats the pink spot. If I could only have one juice. This is it. Five stars? Nope. 6 stars. In fact, this stuff goes to 11 ;)"

Swagger has always been a great hit with our amazing Pink Spot customers. As Pink Spot's best selling tobacco eJuice flavor, Swagger sits as our number two best-selling eJuice. You'll notice a tobacco base with all kinds of other amazing vibes mixed in. Love Swagger? You should also try Peach Pit – another one of our 5 star tobacco flavors.
Review from Bryan:
"Ok… Why did I wait so long to try Swagger? WOW! What a delicious e-liquid! I am a tobacco only vaper so I normally don't go for sweet/fruity vapes or anything other than tobacco… This stuff is pretty sweet but it still makes me think tobacco… But it reminds me of birthday cake as well… It has a "smoky" tobacco flavor with a sweet mix… it's hard to really describe the flavor but if you have not tried it, don't hesitate. It's amazing. One of my top 3 all-time favorite juices! Thanks Pink Spot!!! Can't wait to try some other Pink Spot Tobaccos!!!!"

Coming in close 3rd for best eJuice flavors at Pink Spot is USA Blend. We created this deliciously bold flavor with all of our traditional tobacco lovers in mind. It doesn't get more American than this. Love USA blend but looking to try something new? Check out our RY8 flavor.
Review from Mark Preston:
"This was the first of PSV's e-juices I tried and was hooked from the beginning. But I have branched out and have new favorites that cross my path. Right now it is Peach Pit Tobacco. But I always have some USA Blend around when I want a more basic flavor. I also use it to tone down some of the more bold flavors by mixing them together. For instance I love the taste of Black Mamba, but tone it down a little with USA Blend."
Honey Cured Tobacco remains another one of our customer's top picks for tobacco based flavors. With this amazing tobacco eJuice flavor, you'll taste tobacco with a hint of delectable honey. Like sweet summers in the South, you won't be able to get enough. Love Honey Cured Tobacco? Be sure to request a sample of Curious George.
Review from Brandon:
"Honey Cured Tobacco is my go to e-juice. I will never leave home without a bottle of it with me! To me, it is the greatest tobacco flavor out there! A perfect blend of honey and tobacco flavors do wonders to my taste buds! Definitely recommend Honey Cured Tobacco for anyone looking for a strong tobacco flavor matched perfectly with the sweet taste of honey."

It's no wonder Gummi Bear is one of our top eJuice flavors. This amazing concoction is inspired by the gummy bear shots you order at the bar, and it happens to taste exactly like a handful of chewy delicious gummy bears. Our customers swear you can taste the different colored gummy bears with each vape. Gummi Bear comes in both standard and dripping flavors! Love Gummi Bear? Be sure to also check out Blue Raz Cotton Candy!
Review from johnspenard:
"This is absolutely DELICIOUS! It tastes EXACTLY like the real thing! You get lemon on one vape, cherry on another, orange etc.! Amazing!"

We've always had customers that go crazy over Black Mamba. It's an astonishingly fantastic mixture of fruit flavors and a splash of citrus. This signature Pink Spot Vapors eJuice flavor comes in at our number 6 best seller for the year. Loving your Black Mamba? Also check out Fuzzy Navel. It's one of our personal faves!
Review from Robert:
"This is just outstanding!!!! Wish I would have bought it by the gallon. I'll have to cut this review short as I am currently vaping myself into a coma. I love it and my "second hand" vapor victims are demanding I hit it even harder."

One of Pink Spot Vapors best menthol flavors: Rip Tide. We love this wave of cool vapor for so many reasons! You'll taste hints of blue raz with tons of other cool fruity notes. Rip Tide comes in both standard and dripping flavors! Love Rip Tide? Try Cantaberry Crush if you're looking for something new and exciting!
Dorian's Review:
"This one is absolutely outstanding! It reminds me of those small blue jelly candies we have here in France, I used to be crazy about those and this flavor is sooo close to it! Really refreshing, tastes amazing, everything is really well mixed up & nothing is overpowering! Tastes exactly like its description and so much more.. ! I highly recommend this wonderful juice, it definitely hits the SPOT! ;)"
Fire & Ice is a freezing hot fusion of vapor. One of our most exciting vapes, Fire & Ice leaves you with your mind blown. Our secret is a merging of cinnamon and menthol. You'll find many vapers who declare this as their all-time favorite vape. Love Fire & Ice? Try our newest Pink Spot Vapors favorite, Root Beer!
Review from mrianforte:
"This is my favorite juice so far. It is my all day vape juice and its name is accurate to the taste. The best part about Pink Spot isn't the juices though. It is the amazing customer service. They always respond to my emails with valuable information and I am truly grateful. Everyone should try this flavor. Enjoy!"
No matter what tickles your taste buds, we promise you can find the best e-Liquid flavors at Pink Spot Vapors. Passionate about your favorite eJuice flavor? Leave us a review!